Outlaw Legend x Milliken Fishing
April 6th 2023
Blending & Proofing has started, and she's right on the money at 96 proof!!!
April 7th 2023
Wrapping up bottling, labeling, & tagging your catch!!!
Presenting: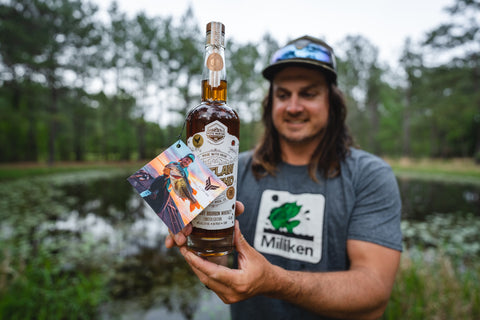 Mystic Mountain Distillery x Milliken Fishing
Outlaw Legend - Milliken Fishing
750ML │ 48% ALC. BY VOL. │ 96 PROOF
Shipping & Handling included
By clicking Add to cart you agree that you are of the legal age to consume and purchase alcohol.
Introducing Outlaw Legend - Milliken Fishing Reserve
This bourbon embodies the essence of Colorado's Rocky Mountains & the spirit of Milliken Fishing with its unmistakable flavor.
A Limited Release To Remember
Unlike mass-produced bourbons from states traditionally known for whiskey-making, this batch of Milliken Fishing Reserve - Outlaw Legend is a limited-release of 250 750ml bottles, crafted with pride by Mystic Mountain Distillery in Larkspur, Colorado.
Enjoy an Elevated Bourbon Experience
Our 96-proof, high-corn bourbon is distilled at an altitude of 7,100 ft, giving it a distinctive flavor that is truly unique to Colorado. Aged for almost four years, Outlaw Legend captures the adventurous spirit of Ben Milliken and pays tribute to the camaraderie and joy of bass fishing.
What sets Outlaw Legend apart from other bourbons is its unfiltered nature, allowing you to savor every drop of genuine barrel essence with each sip. The Rocky Mountain sweet water used in the distillation process imparts a smoothness that is unparalleled. Bottled at 5,600 ft, Outlaw Legend delivers rich flavors and friendly tasting notes of caramel, toffee, and holiday spice, making it the perfect drink to share with your fishing crew and friends.
Celebrate with the Spirit of Colorado
Outlaw Legend is more than just a bourbon; it's a symbol of the unique and authentic spirit of Colorado's Rocky Mountains. So, the next time you want to kick back and relax with your fishing buddies, grab a bottle of Outlaw Legend and raise a glass to the unparalleled flavor and adventure that only Colorado bourbon can provide. Cheers to the memories you make and the good times that await!
Each bottle is hand selected and marked especially for you, because of this shipping is estimated to take up to 2 weeks. Thank you for understanding & supporting our distillery. More importantly, thank you Ben Milliken and his team of supporters.
Age Information & Tasting Notes


Savor Victory With Each Sip